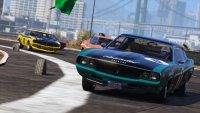 Hi All,
This announcement is for the racers amongst you!
A new and improved illegal racing script has just been added to the server.
This script functionality was originally for experienced members of raceTECH but will now be usable by the entire player base.
Features of the old script which we felt were lacking or needed improving upon...
Customization.

The old script required you to choose a start point and a finish point, whilst it generated everything in between on its own. This resulted in some strange tracks that could end up being blocked by bases or mapping.

Fluidity.

If you wanted to add a new track, you would have to wait a long time for it to be created, reviewed and pushed to the server to find out that the track might not even really be what you were hoping for.

Bugs bugs bugs bugs bugs.

We all know how buggy it was. Over time it was patched and made a little better, but it was never perfect.
Washed out, boring UI which blended into the background. Improvements with the new script.

Full creative freedom.

Create your own starting point, checkpoints and finish point. This is restricted to experienced members of raceTECH.
The ability to upload and remove tracks in an instant. No more waiting for tracks to be added or removed if mapping or bases get in the way.
Import and export tracks with the push of a button, the same way as our construction or LWS panels work.
Updated leaderboards so you can view top times for a track before and after a race.
Completely overhauled UI to fit with the style of the server.
A HUGE thanks to @jonas13362 @Scorpyo and @Jay for making this happen.
Also a big thanks to the raceTECH members who were involved in the testing process.
20

1