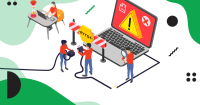 A small number of you are unable to join the server and are getting timed out. (mainly from Turkey).
OVH have been contacted and they've stated that no blocks are in place on their end.
If you were blocked by the server or our host (OVH), then you wouldn't be able to access our website, which is on the same server, just a different IP.
Our configuration is unchanged apart from the new IP address.
As you can see from last night's statistics, it's only affecting a small number of you.

It's possible the new IP we have been assigned (we don't get a say with what IP we are assigned) has previously been used as part of a botnet from OVH and that may be why your ISP has it blocked.
You will need to contact your ISP (internet service provider) and ask them if they can remove this for you.
We've had an IP engineer look at this with a Turkish player who is suffering from this issue, the connection is being dropped by the ISP and he has confirmed that it's no block on our or OVH's part.
If you are affected by this and cannot wait for an answer from your ISP, then we can only advise the use of a VPN to join the server at this time.
1