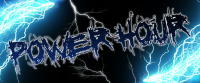 I will be hosting a power hour tomorrow (Thursday 29th Dec) from 7pm (19:00 GMT/Server Time) and will be hosting a few other events afterwards in which you can win various rewards.
I will ping everyone again on discord, 10 mins before it starts as a reminder.
I hope to see you there.
P.S. A special thanks goes to @Yannick for sponsoring the event.
https://discord.gg/saes-rpg-229936715383439361?event=1057678683818709153