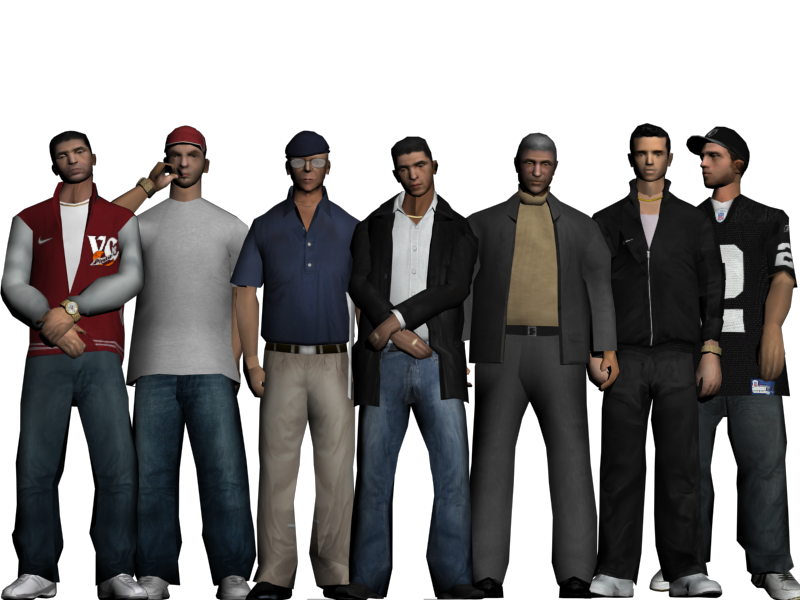 Generation X, sometimes referred as X, is a "assassination/hacker" group. Our roleplay consists on executing our missions in the most perfect way possible while maintaining our quality business wise. We usually hack other organisation's Intel in order to get some extra cash through blackmail and to make them fear us. Hacking isn't our main job but we do it to protect ourselves in certain situations. Our primary operation is assassination by request, people come to us whenever they have a problem with someone they think they can't handle and we deal with that person fast, carefully and untraceable. As a side job our focal point is selling drugs and, to maximize our profit, we get them in two different ways, we either steal it from smaller gangs and then sell them back to other people or we produce them in our factory, that holds the title for highest quality drugs in San Andreas. We don't follow any laws, we have our own terms and ways. We follow them.

Never tell everything you know!
Here you are able to find everything which is the most important to know! Once a member violates a rule, he will be given a warning. Associates will be removed if they get a second warning. Other members will be removed after they get a third warning. Why do we give Associates 2 warnings and normal members 3 warnings before they get out of the organisation?
As an associate, you are new to the organisation. This means we won't treat you equally as the normal members. You still haven't proved yourself. Those have to show themselves if they really deserve to be part of us.. to get patched.. If they prove us wrong by violating a rule.. they get a lower chance to succeed.
Normal members can not violate the server rules either. What they do have as an advantage is the fact that they are in the organisation for a while and finished their times as an associates. These people are trusted and one rulebreak will not cause them being kicked. That is why normal members get 3 warnings before they are getting kicked out.
Warning levels can only be removed by the involved person or persons and if the problem has been solved. Besides that, we also look at their behavior and if it has been improved.
All Server Rules Apply To This Organization Rules (F1).

Always Respect All Members.

Never Rage/Insult in main chat.

Know how to roleplay well, and don't mess about in RPs.

Always respect members of STAFF. And never argue with the admins.

Be mature, and helpful.

In a game, always observe.

Don't reveal the secrets of the family to the outsiders, means that don't talk about our private things to someone else not in the organization.

Do not spam Main chat neither CC!

Always avoid talking about sensitive subjects, such as religions and countries.
We want people who are capable of handing our business and someone who would fit in our organization without any trouble with anyone else. Be yourself, don't try to act too mature and be a fool once you make it in the Gang. Minimum required age is 14. If you're not good in English, don't bother applying. You must know at least the basic English language.
Requirements :
---
In-game behavior should be decent. (Raging or flaming over main chat for small issues will get you Denied.)
Asking for hanging or annoying the gang won't give you anything else rather than denied, just locate them instead.
Be mature, be friendly, we do not want troublesome members, therefore clear your confusions with our members before you apply.
Be loyal and trustworthy and always be a teamplayer.
If you're heading inactive, let a an HQ know it if you go after applying for us.
Have a good knowledge of English.
You must know all the Turfwar, Bank Robbery, Gang Robbery, Store Robbery, and general rules of the server as we question them during our testing procedure.
Follow the server rules no matter what happens
When you apply, We'll judge your application regarding the effort you put on It and your In-game efforts.
---
How to Join
If you're interested in joining Generation X, join our Discord [found here: https://discord.gg/mKpTZA6 ] and simply answer the questions found under our topic APPLICATION--> APPLY NOW. In order to start the apply insert the following command "ea!apply" in the textbox area. Answering all the questions to the best of your ability, doesn't guarantee you a spot in X, as we look at a large range of aspects regarding your person. Remember to be patient once you have submitted your application, helping our members ingame during your long awaited results, can only boost your chances. PMing or being annoying during this time will only decrease your chances of being accepted.